Doing Well by Doing Good? A conversation on ESG Investing with Pearl Impact Capital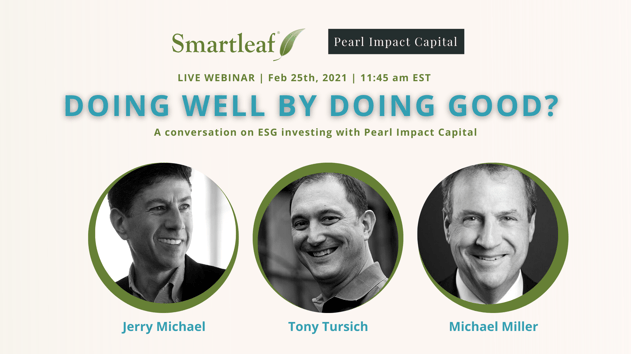 Join me, Anthony Tursich (founder, managing member and CIO of Pearl Impact Capital) and Michael Miller (managing director of Pearl Impact Capital), on February 25th at 11:30am ET for webinar on ESG investing.
Environmental, social and governance (ESG) investing has been part of the Smartleaf story from the beginning, with automated support for ESG constraints included in Smartleaf's first release in 2003. Over the years, we've added additional screens to meet client demands (if you're interested, recent additions include Sharia, private prisons and cannabis). We've also added ESG models to our model hub.
This raises an obvious question: what's the difference between applying ESG screens to non-ESG models and using models that are ESG from the get go? We'll address that question, as well as other:
What are the different types of ESG investing?
Which kinds can advisors do on their own (using software like Smartleaf) and which kinds require specialists?
What is "greenwashing" and what can you do about it?
And, a big one: is there a conflict between doing good and doing well?
The webinar will be live and open to participant questions.