The Investment Engine
The Investment Engine, Smartleaf's core solution, reimagines how portfolios are managed. It was built to enable wealth advisory firms to effortlessly deliver unprecedented levels of customization and tax management while simultaneously empowering client-facing advisors to focus on their unique role of creating a human connection and serving as a coach for their clients.
With the Investment Engine, advisors can effortlessly provide each of their clients with:
Custom asset allocation and security selection
Custom social screens
Optimized tax management including tax-managed transition and year-round loss harvesting
UMAs containing any combination of ETFs, mutual funds, proprietary equity strategies, third-party equity strategies and cash

Smartleaf has reengineered portfolio management. The daily workflow for managing portfolios is collaboratively and efficiently distributed among advisors, investment policy committees and overlay managers.

Holistic & Optimized Analytics
Our rebalancing is based on cost-benefit analytics applied to portfolios as a whole. This gives firms the ability to simultaneously deliver lower dispersion, lower taxes and greater customization.

Models-Based Intellectual Capital
Each portfolio follows a blend of one or more models, but "models-based" doesn't mean "cookie-cutter." Instead, models are just one input into an approach that radically increases customization and tax management.

Parameterized Customization
Customization and tax management are not implemented by on-the-fly, manual adjustments to trades. Instead, customization and tax management preferences are stored as parameters that are automatically factored into all system-generated trades.

We take rebalancing from an art to a science, allowing you to design and implement a daily rebalancing workflow that is highly customizable, efficient, systematic and compliant.

There is no need to create and maintain subaccounts. We take a holistic approach that simultaneously delivers greater efficiency, lower dispersion and greater customization.
Experience Engine
Built on Smartleaf's Investment Engine, the Smartleaf Experience Engine [E2], our advisor portal, reimagines the wealth management client experience by enabling advisors to document their work and value.
Current and planned reports include:
Taxes saved. Show how much you've saved clients in taxes through active tax management.
Health checks. Show clients that you're meeting the standards you set for managing their portfolio.
Explained activity. Provide simple plain English explanations of your trades.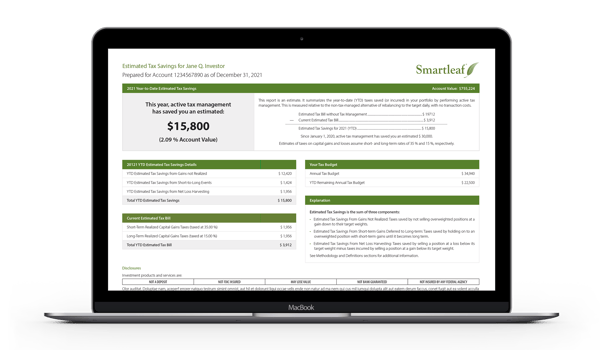 How We Do It
We have reengineered the way portfolios are managed. With our system, the functions of client-facing portfolio managers are split into three parts delegated to three different groups: the Investment Policy Committee, the Advisor and the Overlay Manager.
This restructuring allows for greater efficiency, consistency and compliance to firm regulations. But more importantly, it allows advisors to spend more time with their clients and provide each with personalized and tax-optimized portfolios.